Top 8 Branding Books for Nonprofit Communicators & Marketers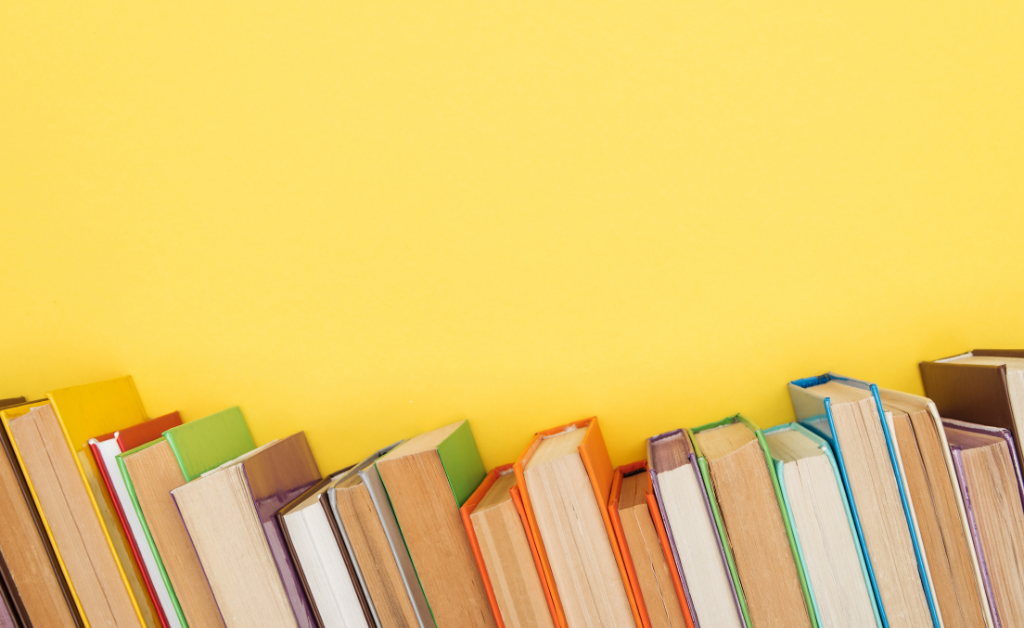 For those who know me—or follow me on Instagram—you know I'm a real bookworm (you may have been the jam-packed bookshelves behind me in my virtual branding talks). I know that nonprofit marketers and communicators are busy people, so I've done the hard work for you, scouring my bookshelves (and the library) for the best branding books for nonprofits, associations, and higher ed teams.
Plus, most of these books are available on Bookshop, so you'll also be supporting local bookstores when you purchase through my referral links.
Hello, My Name Is Awesome: How to Create Brand Names that Stick
By Alexandra Watkins
In this quick read, naming consultant Alexandra Watkins of Eat My Words shows how anyone–even those who say they are not creative–can create memorable and effective brand names. "No degree in linguistics required."
I referred to this book often during a nonprofit branding project that included a naming component and found many useful insights and resources, like the naming creative brief and websites to brainstorm and research names.
A name should make you SMILE: suggestive, meaningful, imagery, legs and emotional.

Alexandra Watkins
---
Made to Stick: Why Some Ideas Survive and Others Die
By Chip Heath and Dan Heath
In this modern-day classic, Chip and Dan Heath reveal how ideas "stick" and explain ways to make ideas stickier, such as applying the human scale principle, using the Velcro Theory of Memory, and creating curiosity gaps.
I've had this one on my bookshelf for a while now, as I'm never at a loss for ideas but it can sometimes be hard to narrow them down to the good ones. It has also been useful for determining the "sticky" qualities of a nonprofit brand.
For an idea to stick, it must have the following qualities: story, unexpected, concrete, credible, emotional (SUCCESs).

Chip Heath & Dan Heath
---
Start with Why: How Great Leaders Inspire Everyone to Take Action
By Simon Sinek
In studying the leaders who've had the greatest influence in the world, Simon Sinek discovered that they all think, act, and communicate in the exact same way—and it all starts with WHY.
This book started to change my perspective on nonprofit branding, showing just how important is it to start with "why" in the brand strategy process—especially for mission-focused organizations.
People don't buy what you do; they buy why you do it.

Simon Sinek
---
Positioning: The Battle for Your Mind
By Al Ries and Jack Trout
Positioning describes the revolutionary approach to creating a position in a prospect's prospective customer's mind—it's how brands can get heard and noticed in a crowded marketplace-one that reflects a company's own strengths and weaknesses as well as those of its competitors.
This is a true branding classic. Even though it was published decades ago, it is still referred to by branding leaders today—including author and brand expert Marty Neumeier, who mentions it in his branding masterclasses.
By focusing on the product rather than the prospect, you simplify the selection process.

Al Ries & Jack Trout
---
ZAG
By Marty Neumeier
ZAG digs into the question of how brands can harness the power of "radical differentiation" in an extremely cluttered marketplace.
This book completely changed my perspective on branding, leading me to read all of Marty Neumeier's books and eventually study with him to earn my brand strategy certifications. Though it's a quick read (I read it over the course of several bus rides) it's chock full of actionable insights that will stick with you for the long run.
A brand is not what you say it is, it's what they say it is.

Marty Neumeier
---
The Brand Flip
By Marty Neumeier
Part of Marty Neumeier's series of branding books, this book shows you how to flip your brand from offering products to offering meaning, from value protection to value creation, from cost-based pricing to relationship pricing, from market segments to brand tribes, and from customer satisfaction to customer empowerment.
This is yet another great book that has helped me evolve my brand strategy process—including the Brand Commitment Scale which measures how engaged and empowered your audience is.
Today's customers want more than features, more than benefits, and more than experiences. They want meaning.

Marty Neumeier
---
The Brand Gap
By Marty Neumeier
The first book in his branding series, this book shares Neumeier's secrets to creating a brand identity that resonates across every aspect of an organization. It's a quick and easy-to-read introduction to his five disciplines of brand strategy, including a useful brand glossary.
This book inspired the "who, what and why" approach that I use in my brand strategy work. I also found his 7 Criteria for a Good Name very useful in my branding work (choosing a name is harder than you think!)
A brand is a person's gut feeling about a product, service or company. It's not what you say it is, it's what they say it is.

Marty Neumeier
---
What's Your BQ? Learn How 35 Companies Add Customers, Subtract Competitors, and Multiply Profits with Brand Quotient
By Sandra Sellani
This book details Sandra Sellani's process of discovering an organization's "Brand Quotient" by assessing the brand's strategy, alignment, communication and execution. It also includes success stories of 35 companies that have built winning brands, sometimes against all odds.
Brand effectiveness can be hard to measure, so this book was very helpful in evolving my own process of brand assessment.
If you can summarize your differentiation in one line, you will have a much greater chance of building on your differentiation.

Sandra Sellani
---
See all of my recommended branding, marketing, and work-life books on Bookshop.org.
I'm an affiliate for Bookshop.org so I may receive a commission if you purchase from the links on this page.
---
Want more branding and marketing tips and resources for your nonprofit, association, or other mission-focused organization? Join my monthly email list—plus get my free Nonprofit Branding Checklist.