A to Z of Branding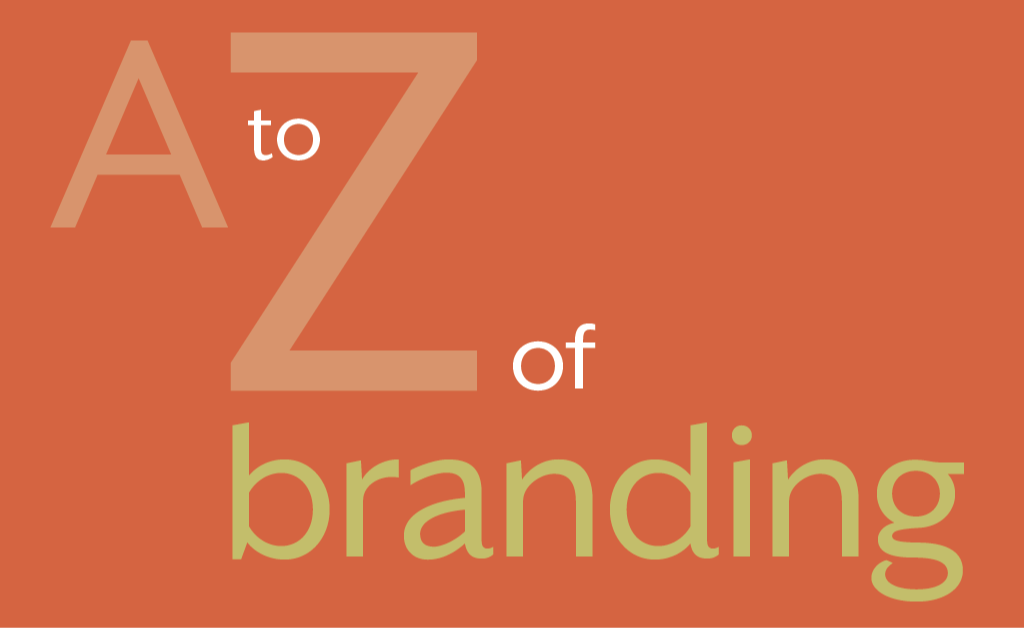 A is for Audience
When you are developing your organization's branding, one of the first things to consider is your audience. Without this knowledge, you won't know who you are speaking to with your branding. Take some time to jot down specifics about your audience: Who are they? What are their interests? What are they passionate about? What motivates them? What means the most to them? These details will help guide the branding process.
B is for Branding
What is a brand? A person's perception of your organization. It's the overall experience that your members or supporters have. It's an emotion, it makes people feel a certain way. It's an experience, it brings people into your environment. It's a story, it tells people who you are. Branding involves your organization's logo, website and other marketing materials, but it also expresses your values, work environment, and client or member interaction. A strong brand makes your organization recognizable. People know who you are and what to expect from you. It creates fans. When people feel like they know you, they will gladly refer your organization or help spread the word. Branding makes your marketing and advertising easy. When you know and understand your brand, it gives you a reference point for marketing and promoting your organization.
C is for Client
Branding is not based on what you think about your organization, but rather what your client thinks about it—from the moment they discover you through the experience of working with you. This is why a "client first" approach to branding must be incorporated into all aspects of your marketing and outreach (i.e. logo/identity, marketing materials, website, social media, PR, client outreach and office/environment interaction). In the words of Al Ries, a prominent author on branding: "The primary objective of a branding program is always the mind of the prospect."
ACTIVITY: Take a look at your current marketing materials and ask yourself: am I speaking to my client, their unique problems or passions?
D is for Definition
Defining your brand is an important part of the branding process. Without a clear definition of your organization, you can't create your mission, vision, and brand statements—important resources that will guide you in your marketing and outreach efforts.ACTIVITY: Grab a piece of paper and jot down how you define your organization based on the following areas:
What you offer
Who your organization serves
Your point of difference
Why they should choose you
Your organization's promise
Your voice or personality
E is for Emotion
Branding is not just visual, it's also emotional. It's how your organization makes someone feel about themselves. What emotions does your branding bring out in a person? Do you help them solve a unique problem? Do you encourage them to pursue their passion? Do you assure them, lift them up, educate them? ACTIVITY: How can you bring emotion into your brand? How do you want people to feel when experiencing your brand?
F is for Fans
Have you noticed how some brands seem to effortlessly attract fans and followers? It's usually because they have positioned themselves very clearly to a specific audience. Effective branding creates fans. When your branding gets people interested and makes them excited about your cause, they become a "fan" and want to share your organization with others. For added benefit, provide your fans with easy ways to interact with and share news about your organization (social media is perfect for this). ACTIVITY: Take some notes: what brands are you a fan of and why?
G is for Growth
What happens to your branding when your organization grows or changes? Your branding needs to evolve along with it. The first step is to do a "branding audit" to see which areas have changed. Review your organization's target market/audience, service offerings, story, personality, and client outreach or community relations. Depending on how much has changed, you may be able to tweak your branding rather than doing a complete overhaul. However, if you feel that your purpose or "reason for being" has considerably changed, then a rebrand may be a better idea.
H is for Hashtag
Hashtags have become a part of our social media language. And with all the recent changes in news feed algorithms, hashtags can help your brand get noticed and create more engagement in the crowded social media space. Here are a few ways to use hashtags in your branding:
Create a hashtag for your organization—it can be as simple as your name or something that describes what you do
Create a hashtag for a special event, program or cause—encourage your followers to tag their related images
Tag your photos with hashtags related to your mission or cause
Follow your own hashtags and respond to comments regularly
Follow other hashtags related to your organization or cause
Take advantage of trending hashtags if they are related to your organization
Keep a running list of relevant hashtags to make posting faster and easier
I is for Identity
Brand identity is used to refer to the overall graphic "look" of your organization. This includes your logo of course, but also your brand colors, typography usage, graphic elements or photography, website or online presence and social media branding. A strong brand identity can be noticed almost immediately: a red bull's-eye symbol is Target. A brown delivery truck is UPS. An easy way for an organization to stay on-brand is to have a set of Brand Standards (also sometimes called Graphic Standards): a manual that contains all of the brand identity standards, ranging from color and logo usage, to marketing piece templates, copywriting guidelines and social media polices. All members of the organizations (and contractors) can refer to this when creating branded marketing materials.
J is for Join
Does your branding encourage people to join you in your mission or cause? Do you offer an easy way for them to engage with you both online and in-person? An active and engaging Facebook community, a Facebook group or LinkedIn group created around your message, hashtags created for your organization or event (make sure to include them on your online and printed communications), and in-person events that encourage sharing of event photos on Instagram or Facebook are all great ways to encourage people to join you in spreading the word about your cause.
K is for KPI (Key Performance Indicator)
A key performance indicator (KPI) is a measurable value that indicates if an organization is reaching their goals and objectives. These are the metrics that are crucial indicators of your organization's success. Here are my "3 As"—or branding KPIs—that are useful for organizations to track:
Awareness: Do people know about you? How do they feel about you?
Acquisition: How much does it cost to attract members/supporters/clients? How often do you need to reach out to them?
Affiliation: How do people interact with or identify with you? What channels do they use?
L is for Logo
A logo is the graphic or visual representation of your organization—and a crucial part of your branding. A well-designed logo is meaningful and memorable and helps tell the story of your organization.
Logo definitions
A logo that are purely typographic are called a logotype. Some logos incorporate both a graphic element and a logotype that can be used together and individually. Generally, once a logo is designed, several variations are created for usage in print, web and social media. It's also a good idea to have full-color, one-color and black-and-white versions of your logo—as well as vertical and horizontal versions. A logo "lockup" refers to a logo that is always used with a tagline, address, URL or other descriptive information.
M is for Mission
A mission statement is a statement that describes why your organization exists. It should be well-thought out, concise and meaningful, as it will drive all of your organization's branding and marketing efforts. You can write a mission statement using this simple format:
Who do you serve?
What problem do you solve?
Why do you want to make this change?
Example: Heifer International: To work with communities [who] to end hunger and poverty [what] and care for the Earth [why]. Need inspiration to write your mission statement? Here are 50 examples of nonprofit mission statements.
N is for Nonprofit
Branding has traditionally been used in the world of goods or services. However, it's just as important (if not more?) for nonprofits to embrace the value of having a strong brand. There are many organizations vying for people's attention nowadays—not to mention the rise of crowdfunding. Branding helps differentiate an organization from the others, giving people a clear reason to support their cause. Branding helps nonprofits tell their story, create connections and attract like-minded people. It creates loyalty, trust and credibility. Strong branding helps nonprofits acquire members, supporters and funders—and strengthens relationships with existing ones. Branding also makes marketing your organization easier. Once a clear purpose and strategy are defined, you can develop your marketing materials around it. And with many nonprofits operating with a small staff, this can save time and resources.
O is for Open Rate
Effective branding can help to increase your organization's email open rates. Branding isn't just your logo and graphics. In email marketing, your writing voice or tone—especially the subject line—is also part of your branding. A concisely written, on-brand subject line is your first step to better open rates. A great way to improve your own email open rates is to study emails that are working. Take a look at the last email you received that you actually opened: what characteristics did it have that made you open it? Most likely you knew exactly who it was from (because of its good branding!) and it was something you needed at that particular time (i.e. information, an event, an opportunity).
P is for POD
When I do branding consultations with clients, one of the most important—and enlightening—questions I ask is: What makes you different? Your point of difference (POD) is the service, product or value that your organization offers that sets you apart from your competition. It's not enough to say "We do it better." You need to have a specific reason people should choose YOU over someone else.
Knowing your point of difference is one of the first steps in developing your branding. It also makes your marketing efforts more effective (and easier) because you always have a reference point. Need help determining your point of difference?
Q is for Quip
I recently sent a new client (who happens to be my cousin) the typical project questionnaire that I use for research at the beginning of a branding and marketing design project. He responded to the question "Who are you?" with the answer "your cousin." This, and his other witty remarks to my "serious" questions, made me laugh—and also realize that branding doesn't have to be serious all the time. Of course, I take my clients' work very seriously, but sometimes it's OK to lighten the mood.
R is for Relationship
Relationships are important in branding. The way you treat and interact with your audience is a key part of your branding: Are you an advisor or more of a friend? Do you offer assistance or support? Do you appreciate and value your audience? Do you allow them to get to know you? Are you an important part of their life? People fall in love with brands when they feel like they know them, like they have become a friend. Is your organization a "friend" to your audience?
S is for Social
Social media branding is how your organization is perceived on social media. This encompasses both the visual (logo, imagery) and verbal (writing, voice). Having well-designed and consistent social media branding will allow people to easily find—and engage with—your organization on social media. I notice that sometimes social media branding is an afterthought: "I'll just drop my logo onto my Facebook page." But it should be carefully considered during every step of the branding process, as social media is sometimes the first touchpoint a person has with your organization. When I work with my clients, I carefully consider how their print, online and social media branding will work collaboratively.
T is for Touchpoint
Branding involves multiple touchpoints: these are the different ways your brand reaches or engages with people. It's important to maintain a clear and consistent brand throughout all of your touchpoints, as this can create strong brand recognition and loyalty.
Here are some typical brand touchpoints:
Online
Website
Social media pages
Email newsletters
In-person
Print marketing (brochures, publications)
Phone and email correspondence/support
Special events
It's a good idea to do an occasional touchpoint "audit:" print out samples of (or jot notes about) the touchpoints listed above. Is it cohesive? Does it effectively express your organization?
U is for USP
Your USP, or unique selling point, is what makes you different from (or better than) the rest. It's the reason why someone chooses your organization over another. Without a clearly defined USP, an organization will have trouble branding and marketing themselves because the playing field will be too wide. With a clear USP, your organization can more easily brand itself to attract the right audience.
V is for Vision
Your vision statement captures the passion and aspirations you have for your organization. It expresses why your organization exists and where you want the work to lead you. As this Forbes.com article says, it answers the question: "What's the best you can be? " Your vision statement is important in your branding because it serves as a guide for your how organization presents itself in daily marketing as well as long-term goals.
Here is an example of a vision statement for Teach for America: One day, all children in this nation will have the opportunity to attain an excellent education.
See more examples of nonprofit vision statements here.
W is for Word (of Mouth)
Word-of-mouth referrals can be the most effective (and most affordable) form of marketing for your organization. However, if people don't know exactly what you do, they won't be able to refer you. One way to assure word-of-mouth referrals is to create branding that is clear and targeted—it should be very apparent throughout all of your branding what you do and who you do it for. Social media is a great way to generate enthusiasm—and word-of-mouth referrals—for your organization.
X is for X Factor
The x factor is the "secret sauce" of your organization—it's the thing that only you can do, it's what sets you apart from others. And it's usually the reason why people choose you over another organization. If you haven't yet defined your x factor, here are a few questions to consider:
What are you known for?
What one thing makes you different?
What is your top strength?
Why do people choose you?
What do you do exceptionally well?
Y is for You
Branding is not all about you. What you think your brand is saying means nothing if your audience doesn't have the same perception. As marketing expert and author Al Ries said, "What others say about your brand is so much more powerful than what you can say about it yourself." In this age of social media, keeping an eye on how your brand is perceived is much easier. What are people saying about your brand? What kinds of images are they sharing? Does it resonate with your mission and vision?
Z is for Zag
"When everybody zigs, zag," says Marty Neumeier in his book Zag: The Number One Strategy of High-Performance Brands. In today's overly-saturated marketplace, you have to take a completely different path—or "zag"—in order for your brand to stand out. And he's right. Just take a peek on social media and you'll find loads of people doing the same thing. In order to stand out, your branding must "zag" and express what truly makes you different. I loved finding this quote because it was the perfect end to this blog series—plus I added several of Neumeier's books to my summer business reading list. Speaking of, I discovered his book The Dictionary of Brand, a nicely designed book that includes many of the A to Z of Branding topics I discussed plus others. So, it may have taken me an extra month but I finished strong.
---
Want more branding and marketing tips and resources for your nonprofit, association, or other mission-focused organization? Join my monthly email list—plus get my free Nonprofit Branding Checklist.