Giving Artfully: Where to Donate Art Supplies in Chicago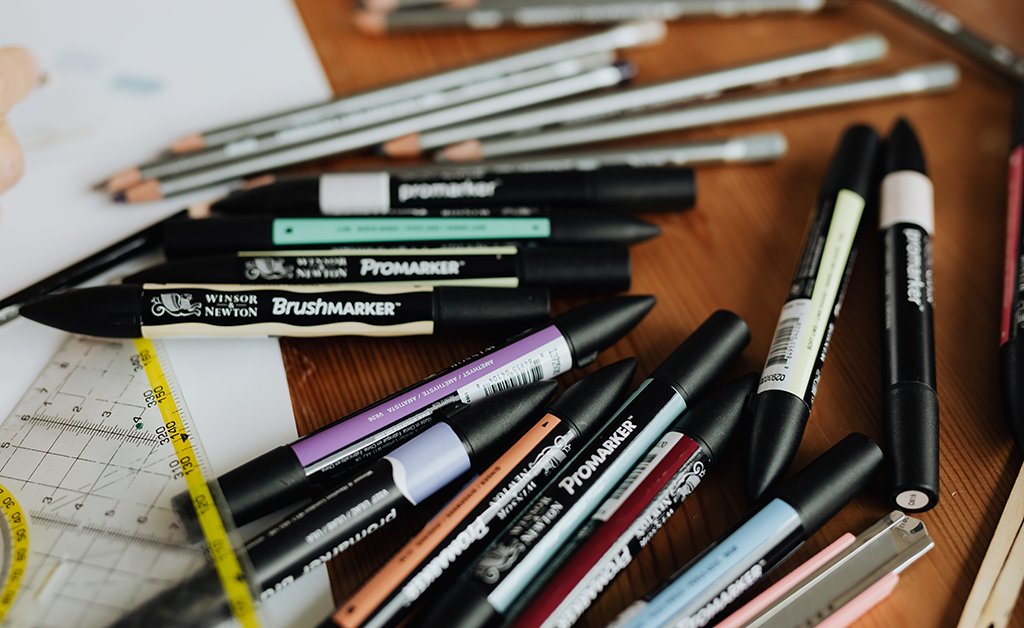 Updated 1/16/23. Please check websites for any COVID-related donation restrictions.

If you (or your kids) love working on art and craft projects, you're bound to end up with lots of art supplies that you no longer need. Don't let all that good stuff go to waste: donate it!
After an office move, I loaded up my car with boxes of paper, books and art supplies and distributed them among several local organizations (as well as my son's school). I had less items to move and I felt good knowing that a student, teacher or artist would make good use of the supplies—it was a win-win!

Where to donate?
There are several organizations in the Chicagoland area that accept donations of new and gently-used art, craft and design supplies and books. I have donated to these organizations and can attest to the good feeling that comes along with sharing with those in need—especially right here in my own community.
Art Makers Outpost
Art Makers Outpost (Evanston, IL) is an environmentally conscious art makers-space for young artists and adults to create art by repurposing items in an imaginative way. They accept donations of a variety of art materiel that can be reused in art classes and art kits. See their donation list.
Books4Cause
Books4Cause (Chicago and Skokie, IL) has helped create over 118 libraries in Africa, recirculated hundreds of thousands of books, and saved even more from landfills. Campus book drives have sent textbooks to developing libraries and education programs in Africa and donated kids and adult books have been distributed to people in need across Chicago and the world. See their donation list.
Creative Chicago Reuse Exchange (CCRx)
Creative Chicago Reuse Exchange (CCRx) is a start-up nonprofit dedicated to creative reuse. They take surplus materials headed to the landfill, and put them in the hands of educators, artists, and community groups. See their donation list.
Creative Pitch
Creative Pitch (Chicago, IL) collects donations of paper, classroom and art supplies and distributes them to local teachers in need. My paper habit (obsession) leaves me with stacks of unused paper—which is put to good use by the Creative Pitch team. I'm proud to be a Creative Pitch supporter for many years. See their donation list.
Inklude Studio
Inklude Studio (Downers Grove, IL) offers an open, creative, and collaborative studio environment for adult artists with autism and other developmental challenges. They welcome donations of art supplies, fabric & sewing materials and photography or computer equipment that can be used in their programs. See their donation list.
Open Books
Open Books (Chicago, IL) provides books and literacy programs to children throughout Chicago. Funding of their programs comes in large part from the sale of donated books in their stores. This is a great place to donate your art, design and craft books (and don't be surprised if you walk out with a few books after dropping off your donations!) See their donation guidelines.
SCARCE
Scarce (Addison IL): Accepts books, school supplies, paper (all kinds), art supplies, poster board, whiteboards, cork boards, metal jewelry, film canisters, inkjet cartridges, office supplies, writing utensils, crayons. They also have a Super Crayon Project which keeps crayons from going into landfill. See their donation list.
The WasteShed
The WasteShed (Chicago & Evanston, IL) is a creative reuse center that collects art and craft materials and makes them available in their retail store to artists, students, teachers and anyone else at a low price. Their store is a treat to visit and they also host art events. See their donation list.
Upcycling Colors
Upcycling Colors (Chicago, IL) collects leftover, used and unneeded art, craft and school supplies and reconditions them into attractive "like new" kits for children in need. They collect everything from paper and pens to loose puzzle pieces and toys. They have several drop-off locations across the city. See their donation list.
Making your efforts count
As a veteran "donater," I can share an easy way to manage donations (and get more organized, to boot!)
Label a cardboard box in your office "art donations."
Once a week, go through your office drawers, cabinets and shelves.
As you come across items you no longer need (but are still usable), toss them in the box.
At the end of the month, drop off your donations.
Make an even larger donation by combining your efforts with co-workers and colleagues, or start a donation drive at your business. Some organizations will also provide a donation letter for tax purposes. Happy donating!
Know of any other Chicagoland organizations that collect art & craft supplies? Please let me know!
Sa
---
Want more branding and marketing tips and resources for your nonprofit, association, or other mission-focused organization? Join my monthly email list—plus get my free Nonprofit Branding Checklist.