How to Keep Your Visuals On-Brand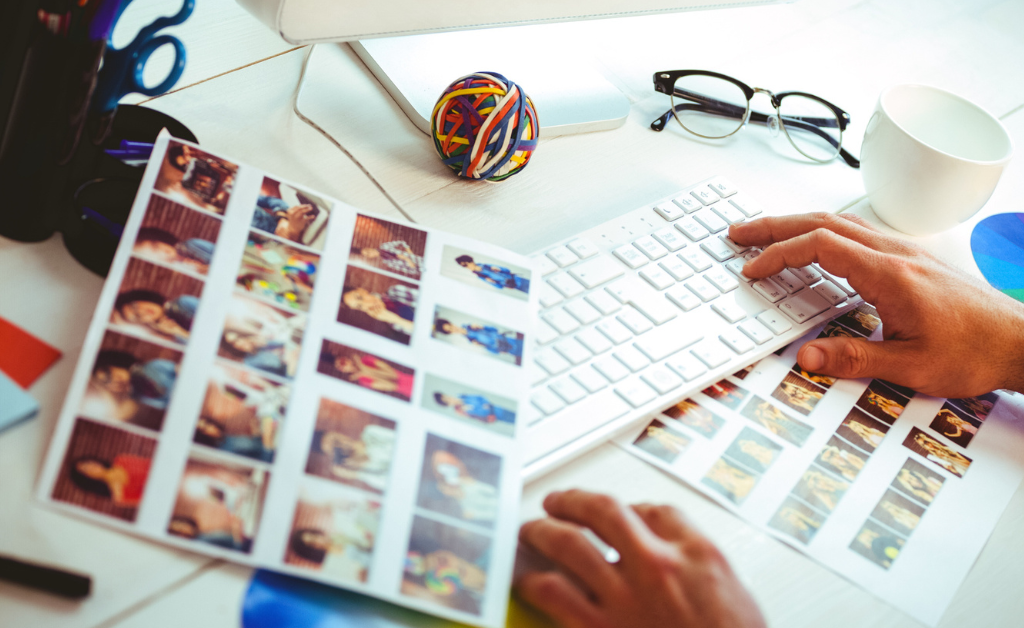 Are your nonprofit's visuals on-brand or have they slowly started to derail?
Between working with multiple team members and outside vendors—plus the popularity of image creation apps like Canva and Adobe Express—brand visuals can start to become diluted over time.
But fear not, you can maintain successful brand consistency by doing some simple planning and preparation.
Conduct A Branding Audit
A brand audit allows you to see all your branding at-a-glance, showing you where there may be gaps or inconsistencies to address.
First, take screenshots and print out copies of each of your marketing channels (print, website, email, social media, blog, etc.). Spread them out on a large table so you can see all at-a-glance.
As you observe, take note: Are logos, colors and images consistent? Do any visuals stand out or look slightly off? This will give you a clue as to where to make improvements.
TIP: Join my monthly email list—plus get my free Nonprofit Branding Checklist.
Clean Up Your Logos
Over time, you may end up with multiple versions of your organization's logo—many of which are incorrect in color, style or resolution. Do an occasional clean-up of your logo files, keeping only the usable versions.
Make sure you have all necessary logo variations (horizontal, vertical, square, with and without taglines) as well as the appropriate file formats for print and digital usage.
Develop a Look
Consistent imagery makes your organization's outreach more engaging and authentic, so consider how you are using images in your branding—especially in the more visual channels, like social media.
You can create image consistency through color, style, photographic point of view, backgrounds or subject matter.
TIP: Bookmark social media feeds you find interesting and engaging.
Create a Photo Library
Most organizations eventually end up with a large collection of images from multiple sources—as well as many team members who need to access those images—so it's a good idea to organize and categorize them regularly.
You can sort images by project name, subject matter (i.e. events, volunteers) or source (i.e. in-house, photographer or stock).
TIP: Label stock images by agency name (iStockphoto) and type (i.e. royalty-free, licensed, free) for future reference.
Upload Brand Assets
If you use an image creation app, you can upload and store logos and other key brand elements in the app for easy access.
For example, Canva's Brand Kit feature allows you to store your brand's colors, fonts and logos directly in the app. Adobe Spark has similar features in their Brands tab.
Make Branding Accessible
Aim to keep all of your organization's brand assets in one place—such as a shared Dropbox or Google folder—that is accessible by your entire team and outside vendors.
TIP: Keep brand asset files organized and labeled by type, i.e. logos, fonts, photography.
Be Aware of Sizing
Image size and proportion will vary across digital channels as well as by usage, i.e. the size of a Facebook post is not the same as a Facebook header. Don't make the mistake of using the same image for multiple purposes and letting the app resize for you—always create graphics specific to the channel and type of post.
TIP: Bookmark a social media image size guide (like this always-up-to-date post from Sprout Social) to assure you are sizing images correctly.
Have Templates On-Hand
If you share specific types of images often (i.e. infographics, event posts, flyers) storing editable templates in a graphics program or online image app will help maintain consistency—and also speed up the design process.
Using an app like Canva or Adobe Express also makes it easy for all team members to view, edit and download the images.
Create a Brand Guide
Keeping a brand guide for your organization is the best way to ensure visuals stay on-brand throughout your marketing outreach. Brand guides provide a detailed overview of your organization's branding elements and assure that everyone in your organization (as well as outside partners and vendors) are expressing the brand consistently and accurately.
If you don't have one yet, consider creating a brand guide for your nonprofit. Even a simple guide with specifications for logo, color, typography and images can make a big difference.
TIP: If you need help creating a brand guide, here's a useful framework for what to include.
So there you have it: a few easy ways to assure your organization's visuals stay on-brand—while also making a connection and stronger impact with your audience.
Originally published on Big Buzz Idea Group blog
---
Want more branding and marketing tips and resources for your nonprofit, association, or other mission-focused organization? Join my monthly email list—plus get my free Nonprofit Branding Checklist.