How to Make Your Giving Page More Engaging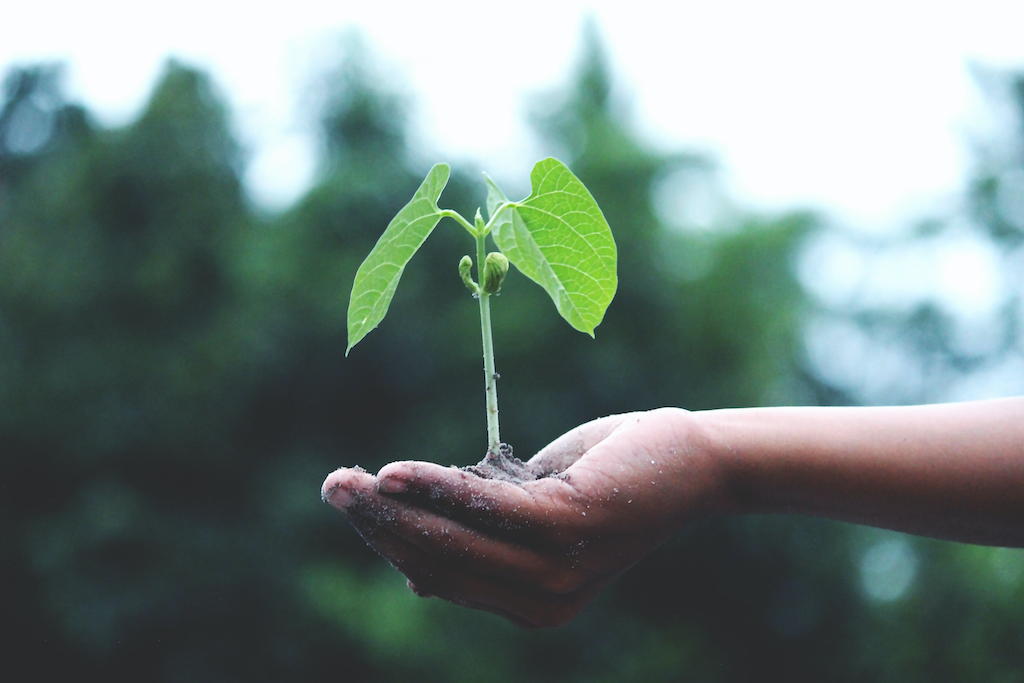 Photo by Akil Mazumder from Pexels
The ultimate goal of any giving page is to encourage visitors to make a donation. After filling out 10+ donate forms during this year's GivingTuesday, I jotted down some best practices and I took note of the most engaging elements of a well-designed giving page.

The key to success is a good user experience, and while your supporter is there keep them involved. Whether you are creating a giving page for the first time or need to refresh your organization's page with new content, here are 5 things to consider when designing a giving page.
Focus on Branding
The giving page is an extension of your website. It's important to create a trustworthy page by including your logo and your organization's color palette. This simple step reassures visitors they are still on your site while making their donation. In a 2020 report, Nonprofit Tech For Good noted branded pages raise 6 times more funding than generic pages. Inspire your supporters to take action!
Include compelling images, create an uplifting video message and add testimonials of who you serve. Be sure to share how donation dollars were put to use over the past year.

I love the giving page at All Stars Project Inc. They incorporate the spirit of their organization with a moving image. Their logo and color palette are clearly identifiable in the top left corner of the website and the organization's mission is clear. They even provide a snippet of what your donation dollars can provide.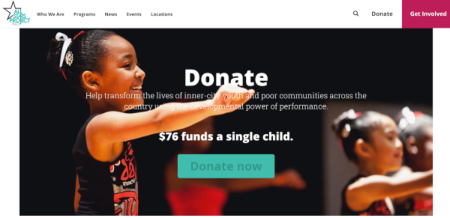 Good Functionality
Great content is step one. Collecting the donation is step two. Don't lose your visitor with a complicated form and too many steps.

Make donating easy and inspiring with these simple best practices.
Ensure your donate button is easy to find. Most are located above the fold (the fold is that imaginary line at the bottom of the page before scrolling downward). Try placing the donate button at the top right corner of the page.

Make your donate button stand out in a bright color.

Provide options by suggesting donation amounts at various levels: $10, $25, $50, $75, $100.

Share what your supporter's donation will provide or allow supporters to choose what the donation should go toward.

Offer a recurring donation option, making it easy for supporters to keep contributing.

Allow visitors to dedicate the donation in honor or in memory of someone.

Ensure a receipt is automatically provided at the end of the transaction and in an email.

Add a friendly reminder that the donation is tax deductible in the U.S.

You might also want to mention t

he

CARES Act

temporarily suspended contribution limits.
Cradles to Crayons is a great example of an easy donation form and includes many of the tips above providing a feel good experience.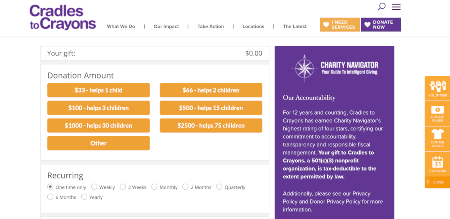 Be inclusive of all donors
Make donating fun by celebrating a variety of ways to give. Start with a low amount ($10.00) so everyone can get involved. Encourage free ways to give such as social sharing, invite family and friends to join, volunteer time, donate skills, organize an event or create a birthday fundraiser on social media.
Don't forget to highlight additional charitable ways donors can support your organization. Include information on corporate donations, employer donation matching, stock gifts, in-kind support, and estate planning options.
Hope for Widows is a great example of starting with a low amount, making the experience more inclusive.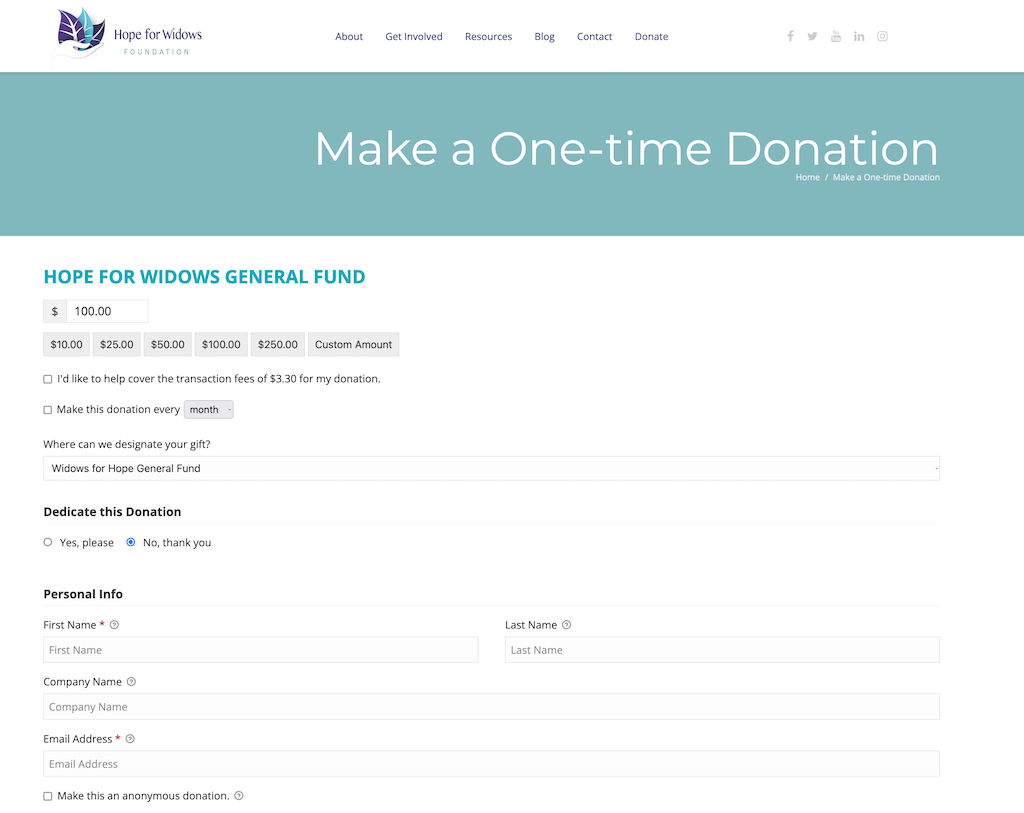 Audience Engagement
Don't lose a captive audience. Keep them engaged to the end. Once your supporter hits the submit button, encourage them to explore your site and learn more about you.
Here are a few ideas you may want to consider:
If you didn't share with donors what their dollars provide on the donation form, share the information via a link or video.

Add a link to your site's most popular articles.

Add a link to get involved with your organization.

Add a link to join your next event.

Invite donors to join your email list and

choose how frequent they want to hear from you: weekly, monthly, quarterly.

Invite donors to follow your organization on social media.

Offer a donor FAQ page.
Have a Follow-up Plan
Be sure to write a meaningful thank you. Keep donors committed to your organization's mission by sharing impactful stories of your accomplishments. Show how your donor's hard-earned dollars are being put to use. Don't always ask donors for more money but definitely have a plan to ask again. Supporters will only donate again if they feel connected to your organization. On-going communication is vital to future fundraising success.

There you have it! A good giving page improves your fundraising performance. Classy reported one-time donors who started on donation pages are more likely to return than donors who started on peer-to-peer campaigns or ticketed event campaigns. This means solid branding, a compelling message, good functionality, providing a variety of ways to give and keeping your audience engaged are critical to meeting fundraising goals.

To learn more about how branding can impact your organization, read my post on why your nonprofit needs brand guidelines and how to create them.

It's never too early to start preparing for GivingTuesday! Read my series on creating effective GivingTuesday branding and marketing.