What Type of Content Calendar Should Our Nonprofit Use?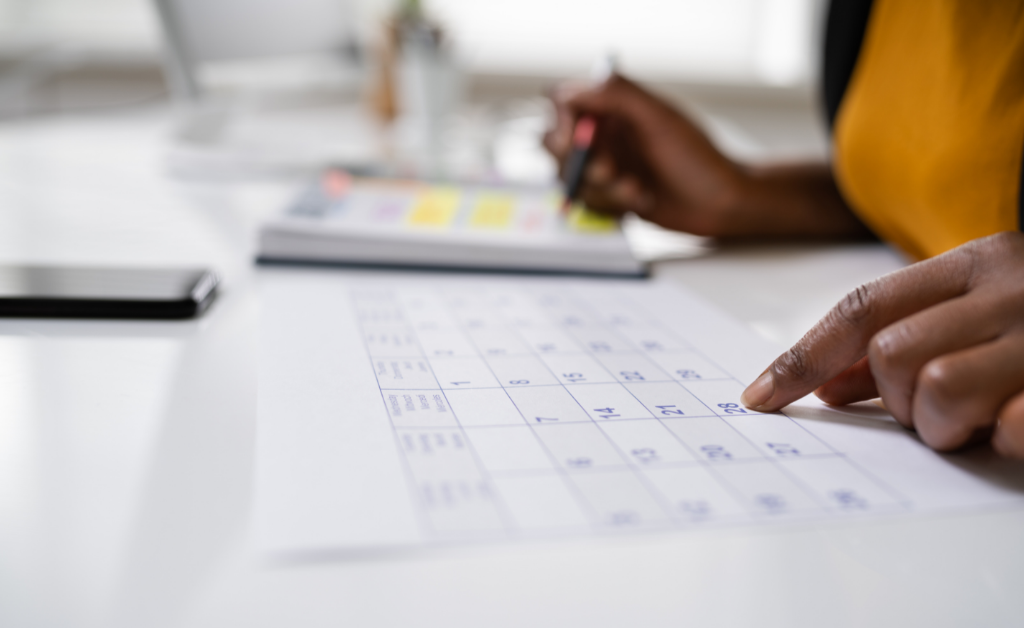 When it comes to templates for creating your nonprofit content calendar, there are two that I prefer: Google Sheets, a simple spreadsheet with its versatility and ease of use, and Trello, a more visually-based calendar that also allows for app integrations. 
Let's take a look at the benefits of each of these types of content calendars.
Google Sheets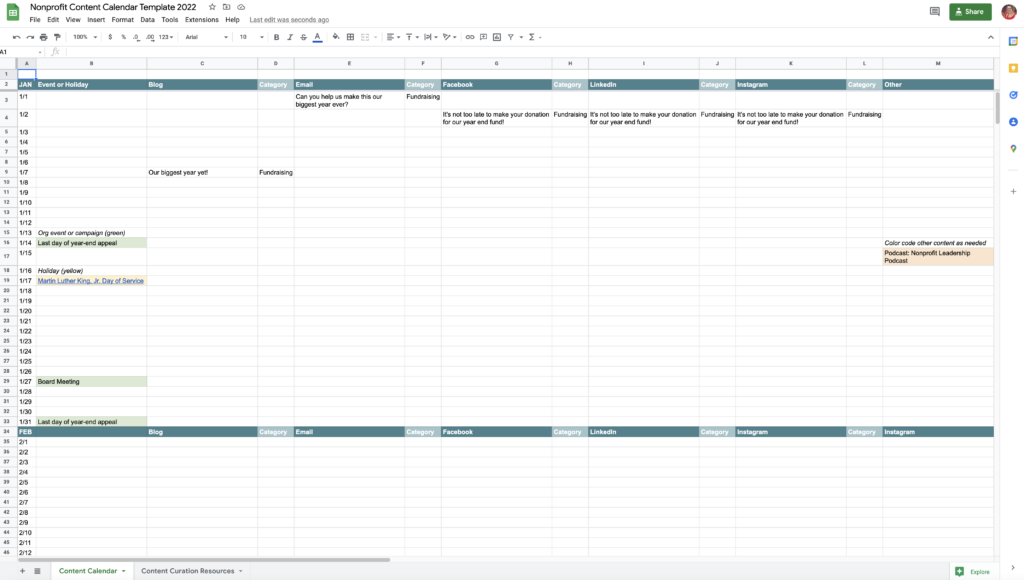 Google Sheets is perfect for tracking all of your content channels in one place, such as blog, social media, website, and newsletter. The spreadsheet format allows ample space for content-related details such as fundraising campaigns, events, holidays, or organizational meetings. 
You have the option of color coding your content categories to more easily see how often they are being posted. Color coding also helps to see when a certain category, such as a podcast, hasn't been scheduled for a while. I find it extremely helpful to color code a content calendar, especially when there are multiple content categories to keep track of.
Google Sheets also allows you to add tabs for other important content details such as articles saved for curation. Linking to curated articles helps to ease the burden of creating new content.
TIP: Make note of source URLs or social media handles to give credit to the original author(s) when curating content.  
Having a tab for evergreen content is another bonus of using Google Sheets, as you'll be able to repurpose content easily and effectively. This helps boost SEO and keeps your evergreen content in front of your audience.
Trello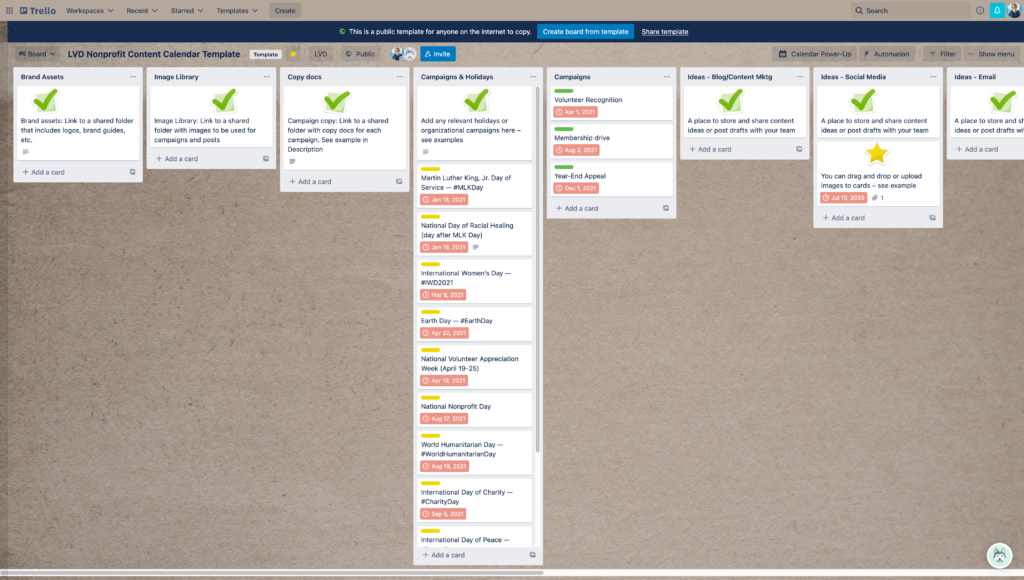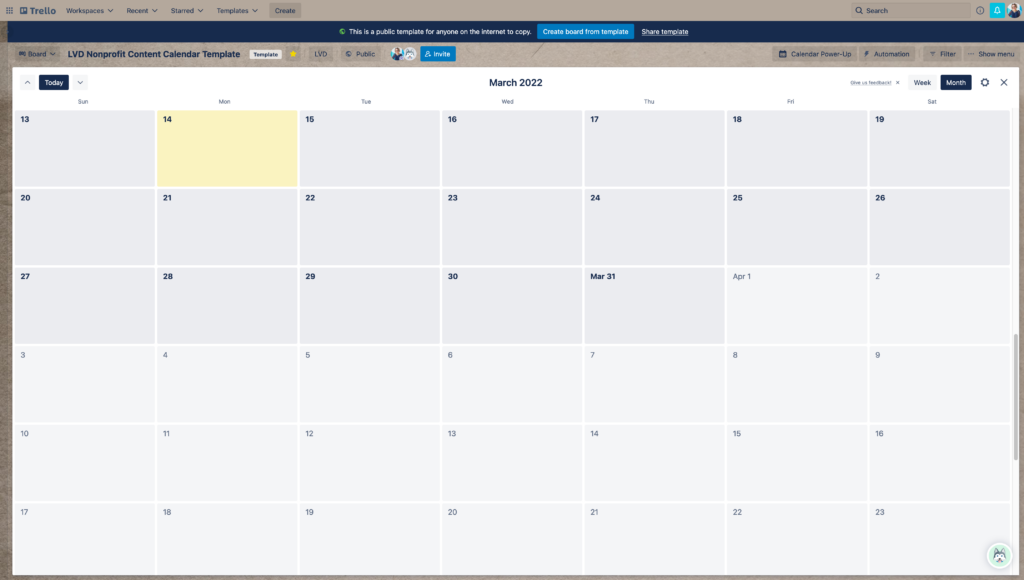 Trello is a kanban-based project management tool, and quite different from Google Sheets. While Sheets is more of a traditional spreadsheet, Trello has a visual interface that also incorporates a calendar, which makes it a great tool for creating a content calendar. Like Sheets, you can easily add important dates and content details to the calendar, but it has a few other advantages. 
Each member of your team can easily add their ideas, access brand assets and images, or communicate with each other. Tasks can be assigned to a contact person, due date, and reminder, can be tagged by type and color (ie blog, email), and can be moved from one date to another through drag and drop.  You can also create a workflow in Trello to take your content from draft through approval. 
Which calendar format should I choose?
While both types of calendars will give you a structured, organized look at your content, Sheets is a great option for a small team, those just getting into content marketing, or if you want to use tools your organizations already use. While Trello may be the right choice if your organization needs a more detailed workflow and a stronger communication system.
No matter which template you use, it is important to have a system in place to plan and organize your content. By keeping on top of it and posting content regularly, you'll have a greater impact and more engagement with your audience.
Need help getting started?
If you need a good place to start, download one of my content calendar templates:
Nonprofit Content Calendar Template (Google Sheets)
Nonprofit Content Calendar Template (Trello)
Check Out My Other Blogs on Content Calendars
Why a Content Calendar is Essential for Nonprofits
Building a Nonprofit Content Calendar That is Effective and Simple
To learn more about creating a content calendar for your nonprofit organization, please visit lsvdesign.com.