RECAP: 2019 NGO Technology Report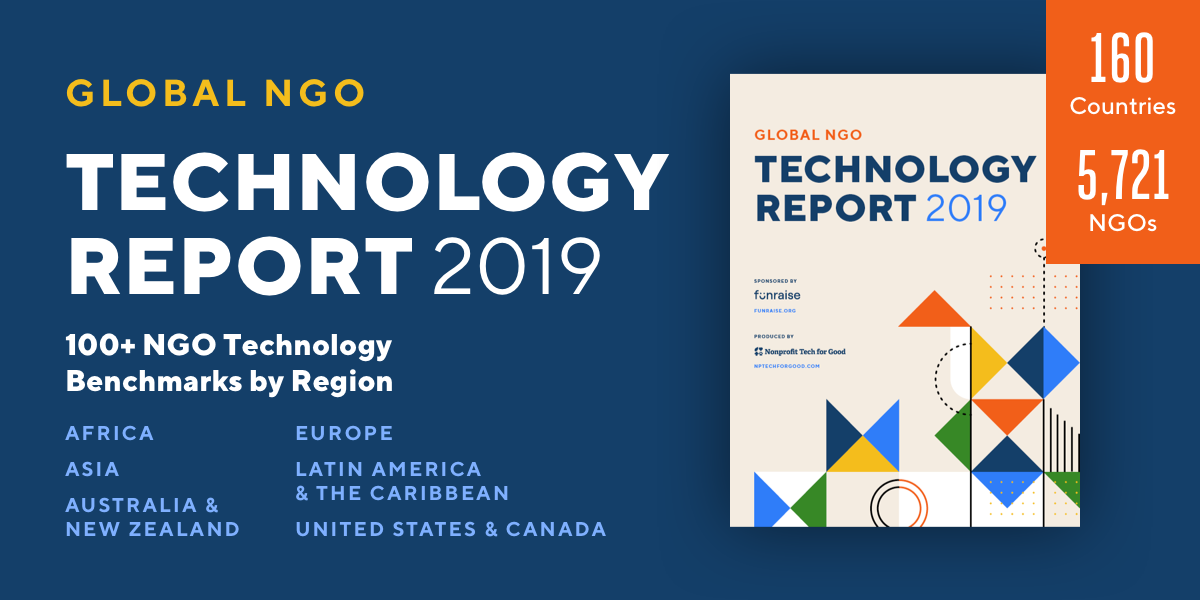 The Global Non-Governmental Organizations (NGOs) Technology Report is a biennial research project, sponsored by Funraise and produced by Nonprofit Tech for Good, that strives to understand how non-governmental organizations (NGOs) worldwide use technology.

Using survey results from over 5,000 NGOs across 160 countries, this report is useful for analyzing your organization's current use of web and email communications, online fundraising tools, social media, mobile technology, and productivity software, as well as for planning future online goals and strategies.
Here are key results for the United States and Canada: 
Web and Email Communications
Almost all (97%) NGOs have their own website—with a majority of them having mobile compatibility, privacy policy, SSL certificate, online donations, and event registration features on their website.
The majority of organizations send out emails to supporters with 46% sending them out on a monthly basis. 

The majority of NGOs send email fundraising appeals quarterly. 

64% use a Customer Relationship Management (CRM) software to track donors and supporters. 

46% protect their data with encryption technology.

85% accept donations online through their website. Credit card is the most used type of payment. The majority of organizations use fundraising tools such as recurring/monthly giving, tribute giving,  peer to peer fundraising and mobile card readers.

58% participated in #GivingTuesday in 2018. Of those organizations, 62% received more funding that year than the previous year. 70% are planning to participate this year.

Read my series about preparing for GivingTuesday.
TIP: See my post 15+ Low-Cost Social Media, Content & Email Marketing Resources for Nonprofits.
Social Media
The majority of NGOs believe social media is effective for recruiting attendees and volunteers for events, creating social change, online fundraising, for building online brand awareness and encourage people to take action.
97% use social media on a daily basis to engage with donors and supporters.

99% have a Facebook page for their organization

. 

The majority of NGOs purchase Facebook ads, use Facebook Charitable giving tools and use Facebook Live. 

56% use Instagram, with a majority of organizations using Instagram stories. 

64% use Twitter, with a majority using hashtags regularly. 

37% have a LinkedIn page for their organization.

 

73% have a Google Ad grant. 
Productivity & Technology
The understanding of emerging technology by NPO staff is higher than the global average: 79% say they understand Artificial Intelligence, 75% cloud computing, and 58% predictive analytics.
48% increased spending

on technology

 in 2019; 8% decreased spending; 44% stayed the same.

22% use tools for internal communication, such as Slack.

29% use project management tools, such as Asana and Basecamp.
And finally, here are the most effective communication and fundraising tools, as determined by the survey:

 

Website

 

Case studies 

 

Email marketing 

 

Social media

 

Video
Read the entire Global Non-Governmental Organizations (NGOs) Technology Report.